ABOUT OUR DENT REMOVAL SERVICES
We specialize in personalized paintless dent repair and dent removal for the minor dents and dings we all hate to see on our cars from time to time. This is perfect for dents received to your car doors, quarter panels, and all around the body of the vehicle, including bumpers. Regardless of where on your vehicle the dent is, we welcome you to submit a photo and we will provide a free-of-charge estimate. Our equipment is fully mobile, and we take pride in our efficiency and excellent services. The fastest way to a successful repair is to send us a high-quality photo of the damage and we will assess and respond within 24-48 hours. If there is significant damage, including damage to the paint, which goes beyond our ability to deliver a successful repair, we can discuss other remedies, including referral to trusted partners.
ABOUT OUR QUALITY DENT REMOVAL PRICING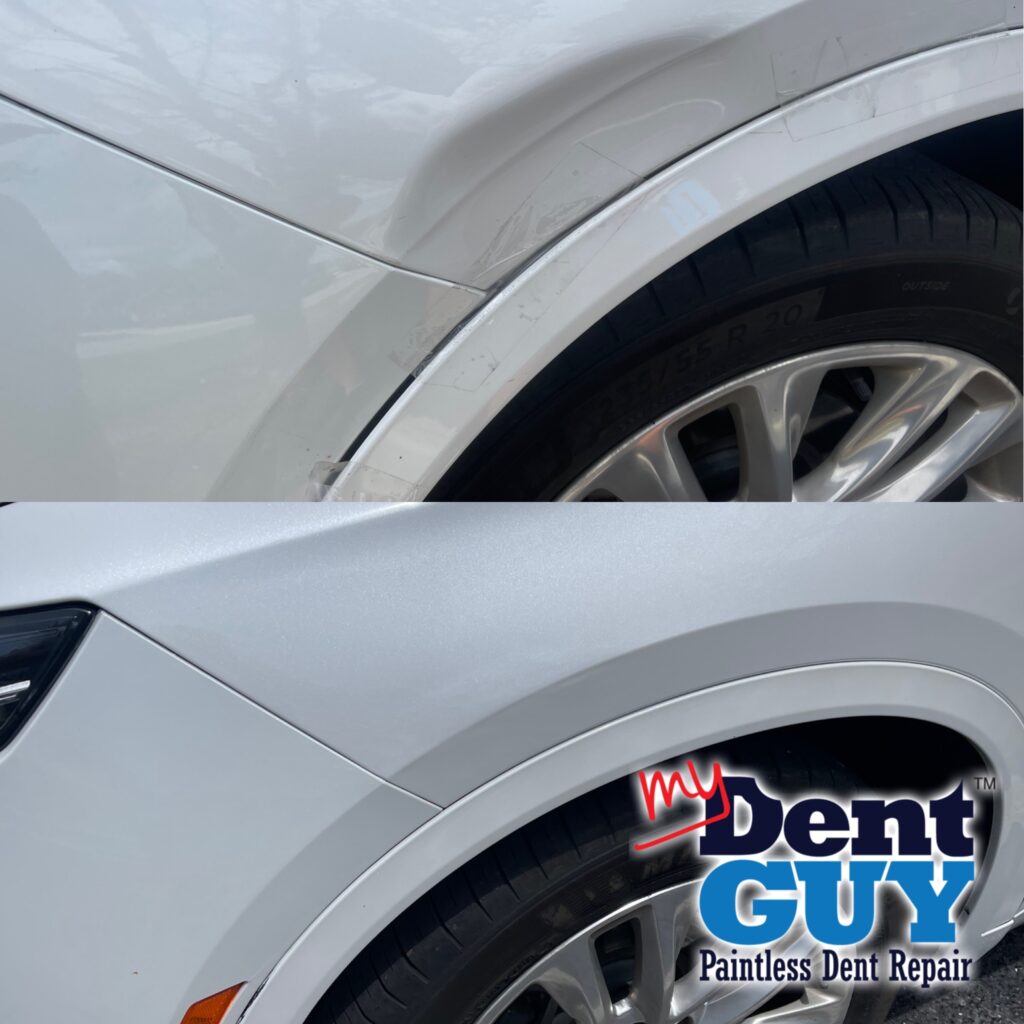 Estimates are provided free of charge based on your submitted photo. We will not be able to offer a firm cost until we are able to see the damage in person and assess the work required, but guarantee that our dent removal pricing is standardized and, above all, mindful of your value. Because our techniques are straightforward and our business model requires minimal overhead, you can be assured that our pricing is competitive. When we offer a quote, it will cover no more and no less than just what is needed to get the job done. We will not recommend any unnecessary services. We believe in transparency and integrity in our pricing as much as in our service delivery. On top of fair and competitive prices we offer dent removal at our shop or affordable mobile services!
ABOUT MARK TUCKER
Mark Tucker is the founder of My Dent Guy Paintless Dent Repair and the Chief Dent Removal Officer! Mark originally hails from Chicago, Illinois, and is proud of his Midwestern heritage and work ethic. Mark will tell you he is passionate about seeing things done with the utmost respect and integrity. With more than 25 years of experience in traditional collision repair, including on the technical side as well as front office operations, Mark understands the core essence of how to satisfy customers' needs and priorities in a courteous and professional manner.
Mark launched My Dent Guy Paintless Dent Repair in 2013 after becoming convinced of a need in the market to deliver a dent removal service that prioritizes cost, quality, and convenience. He had heard one too many stories from customers of traditional collision repair about the disappointing customer service, high costs, and disregard for their valuable time. Mark has steadily built his business throughout Southwest Florida, taking great pride in having a client base that draws largely from referrals and word-of-mouth. When you contact Mark, you can be assured that he will give you the attention you deserve to provide a satisfactory solution to one of life's little hassles.